Are you considering buying a holiday home in Calpe in Spain? We have an extensive range of different properties for sale on the Costa Blanca and in Calpe. This runs from apartments around € 195,000 to villas of more than one million euros. Contact us for more information, or check out our offer here.
---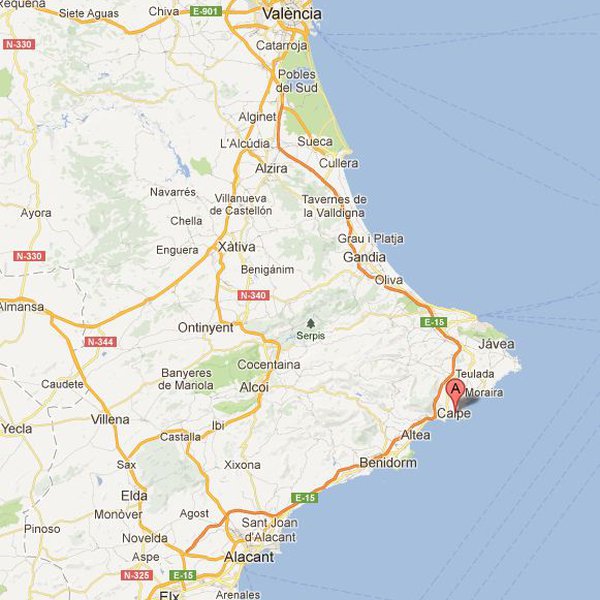 About Calpe
Calpe, also known as Calp by the Spaniards, is a nice seaside resort on the Costa Blanca and has a modern marina. It has a total area of 24 km², has more than 30,000 inhabitants. About 11,000 of these are Spaniards.
Calpe is also known for 332 meters high rock "El Peñon de Ifach". The rock protrudes into the sea and can be seen from miles away. The rock is also part of a bird sanctuary with over 80 bird species and divides Calpe into two beaches.
Calpe has a lot of fun and is therefore ideal for tourism. There are numerous apartment buildings here and there are plenty of cafés, restaurants and nightlife options. The surrounding hills are built with beautiful detached villas with private pools.
Calpe falls exactly between the Javea to Altea area, which has been named the healthiest area in Europe by the WWF. Because of the mountains this area is exactly in a bowl, so it has a Mediterranean maritime climate. This means that there are less extreme fluctuations in temperatures and the winters are therefore not extremely cold and the summers are not extremely hot. The old town of Calpe is still intact and still contains traces of Moorish domination. Annually there is celebrated that the Chistens are liberated by the Moors. Click here if you want to see where you need to be to experience it. The fishing port is located near the center.
There are 2 markets weekly. The market held on Saturday is large and is held in Calle del Norte. The market on Wednesday is mainly a goods market and is located behind Plaza Central.
There is also plenty to do for athletes. There is a lot of walking, sailing, diving, tennis and of course golf. There are two golf courses in Calpe; Golf Don Cayo (3078 meters) and Golf Ifach (3460m). Both are a 9-hole course with a panoramic sea view.
In terms of location relative to the rest of Spain, Calpe is about 70 km north of Alicante. By car you can be at the airport within the hour. A train departs from the airport every two hours. The journey takes about one and a half hours and costs between 5 and 8 euros.
In which we distinguish ourselves?
Together with our partners we have already built and purchased many successful villas (references available).
Personal Dutch guidance in the Netherlands and Spain.
We accompany you from A-Z with the purchase or new construction of your dream home.
We have access to a very wide range of properties for sale in the Costa Blanca and other places in Spain.
We know the areas personally and can therefore show you everything.
As soon as a new house is for sale, we will be the first one to know